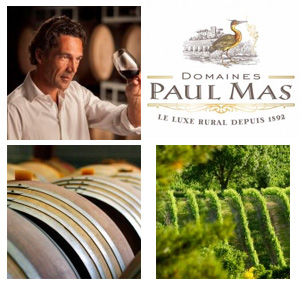 Since 2000, Domaines Paul Mas has become a reference in the Languedoc. Old World wines with New World attitude is the essence of our character.
Jean-Claude Mas is the owner and winemaker of Domaines Paul Mas; his visionary spirit has enabled Domaines Paul Mas to be rewarded with 3000 medals since 1999. The 16 Estates cover over 850 hectares, out of which 440 spread across the Crus of the Languedoc: Pézenas, Grés de Montpellier, Terrasses du Larzac and Limoux.
Our branded wines are made with grapes coming from our partners-vintners, which represent 1312 ha of vineyards. This is how we can produce authentic and affordable great wines, what we claim to be an "everyday luxury"!
Our Estates and vineyards
In 2000, Jean-Claude Mas created Château Paul Mas, named after his father Paul, a skilled grape grower who devoted his life to the vineyard. With grape growing expertise passing from father to son since 1892, Jean-Claude Mas has been able to steer his family towards the profession of winemaking, and since 2000, this expertise will pass from father to daughter.
Our 16 châteaux express all the wonderful terroirs of the Languedoc and Roussillon regions.
– Château Paul Mas, Clos des Mûres, Clos du Moulinas, Clos de Savignac, Belluguette.
– Mas des Tannes, Montagnac
– Clos du Moulinas, Pézenas
– Château Teramas Astruc, Malras
– Château Arrogant Frog, Gaja and Villedieu
– Château Cres Ricard, Ceyras
– Château de Martinolles, Saint Hilaire
– Domaine de la Ferrandiere, Aigues-Vives
– Domaine du Silène
– Clos Astelia
– Château Jérémie Ferrandière
– Château Oustau St André
– Château Lauriga
Click on the video to find out more about our philosophy, landscapes and wines !

Find out more about our wines estates and brands here : Discover our PaulMas website